UNIPOINT -
4 Pagine
60/UPT-W,UPT-I/250/0106/EN
UPT-W,UPT-I - Unipoint
UPT-W, UPT-I
Unipoint
Custom made. Full range of models. Internal services included.
• Custom made to suit each application
• Available as either a wall-type unit (UPT-W) or Island
type (UPT-I)
• All internal pipework and technical services
pre-assembled and tested off site. Fabrication only,
can be provided if required.
• Co-ordinated interface with ventilation products
• Fully accessible for easy cleaning and maintenance
• Total segregation of M & E services
• A wide range of optional extras
• More versatility and serviceability than conventional
methods
• 'Inbuilt' flexibility allowing ease of additions/changes
• Dedicated and or multi-serviced risers to suit each
application
Application
Developed for the use in commercial kitchens, the Unipoint range of S.D U's provides an efficient and economical layout. Pre-assembled off site with all internal services, the Unipoint eliminates the co-ordination of other trades allowing minimal preparatory work in bringing mains services to a 'single point' of connection for final 'hook up'.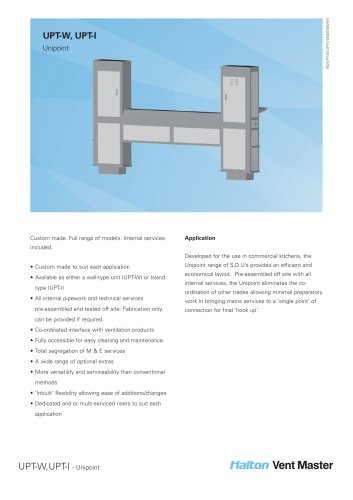 Versione testo
Tutti i cataloghi e le schede tecniche HALTON
Cataloghi archiviati